Barcelona is a city of many facades! For some, it is a sporting haven where soccer enthusiasts can walk in the footsteps of some of the worlds most famous and talented players. For the culturally curious, Barcelona provides an opportunity to explore the many unique offerings of the city in terms of it's food, architecture, traditions and people. However, few people associate Barcelona as a place for music enthusiasts and we at Barcelona-Home  are here to show you the many musical offerings of various genres which can be found in the city. Between the historic music venues, musically themed restaurants and apartments which offer a creative space for impromptu jam sessions we have all bases covered. To do so, we have created an itinerary for all you music lovers which will enable you to explore Barcelona and exercise your passion at the same time!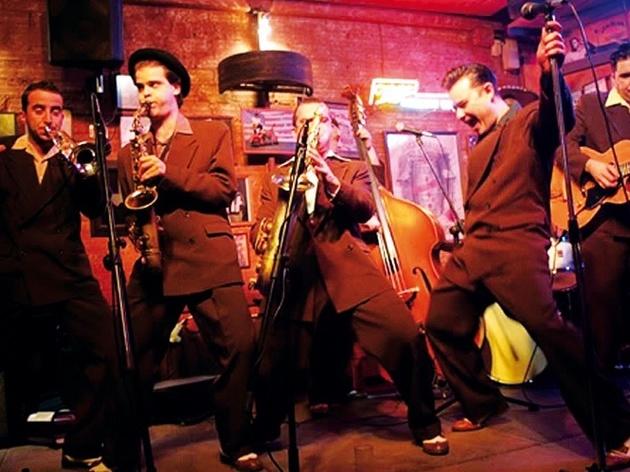 Things to do
Palau de la Musica Catalan
The Palau de la Musica Catalan is a concert hall located in Barcelona and in 1997 it was declared a UNESCO World Heritage Site. Its beautiful exterior means that it is known an one of the most iconic landmarks in the city due to its modernist style architecture.  For music lovers, this concert hall will delight multiple senses as not only does it host some of the worlds most talented musicians, but its interior is just as beautiful and intricate as its famous exterior boasting an array of bright colors and tiered seating. For all those who wish to visit and see a show, the Palau de la Musica Catalan host a variety of musically focused shows which range from choirs, acoustic performances, traditional dance shows and orchestras.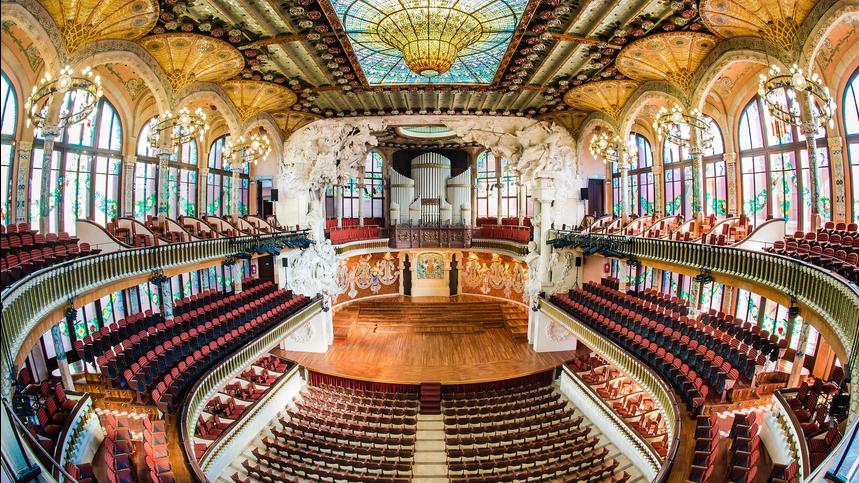 Fuente Mágica de Montjuic
While not commonly associated as a spot for music lovers, the Fuente Mágica de Montjuic, or The Magic Fountain, is a must see stop on the itinerary for those who have a passion for all things music. Varying on the time of year, the magic fountain, which is located close to Placa Espanya, puts on a light and music show at night during the weekends and draws large crowds. The water is synced with both the lights and music to produce a spectacular show. The music accompanies the water varies between comical music to traditional Catalan music, ensuring people of all ages can enjoy this unique musical experience.
Jamboree Jazz Club
No visit to Barcelona for music lovers would be complete without a visit to on of the cities most famous bars, Jamboree. Jamboree is an iconic Jazz bar located in Placa Reial and over the years it has become to "go to" spot for all those who want to experience some top quality live jazz music. Known as an institution which hold an integral space in the cultural heritage of Barcelona, this music today hosts a variety of both well known artists and emerging talent from across the Atlantic as they pride themselves in finding and giving rise to national and international jazz artists. Among some of their most  popular national and international line ups are Clarence Becker, The Barcelona Big Blues Band, Natalie Williams and  the Daahoud Salim Quintet. For music lovers, we assure you an unforgettable experience at the world renowned jazz venue.
Where to eat
Hard Rock Cafe
No Cafe is more synonymous with music than the Hard Rock Cafe franchise and luckily there is one located in the heart of Barcelona. Located on the famous La Rambla, the cafe first opened it's doors in 1997 and has been a thriving hub for music lovers ever since. The restaurant incorporates aspects of Catalan culture through their take on traditional dishes with classic American dishes to transport you stateside. For music lovers, this cafe is unlike no other as it features authentic memorabilia from some if musics greatest stars and groups and boasts a playlist of great classic rock hits.
Address: Plaça de Catalunya, 21, 08002 Barcelona
Lulu's
Lulu's, located near Barcelonetta, is the perfect weekend treat for those who value brunch as the most important meal of the day! Famous for their selection of fresh, healthy and highly appealing dishes, Lulu's has a chilled and relaxed vibe and chic decor which, when combined creates the perfect atmosphere for a relaxed dining experience. What distinguishes Lulu's from other brunch cafes in the city is that each Sunday they hold "Sunday Soul Sessions" where artists perform from 6-9pm. However, these artists are no run of the mill performers, Lulu's prides itself on sourcing the best and most unique artists to perform at their establishment such as Cuban jazz bands and soul singers. For music lovers visiting the city, this is one place not to be missed!
Address: Av. del Marquès de l'Argentera, 7, 08003 Barcelona
Michael Collins
The phrase "everywhere you go you'll find an Irish pub" has proven accurate time and time again, and in Barcelona there is no exception. While there are many Irish bars in Barcelona, the Michael Collins is a step above the rest. Every Monday night Irish musicians gather in the back of the bar and play Irish music, sing and dance. This free performance gives music enthusiasts the chance to experience some of the most richest aspects of the Irish culture and eat delicious food at the same time. The bar serves a mixture of "pub grub" and traditional Irish dishes such as Steak and Guinness Pie, traditional Irish stew, Bangers and Mash and an all day Full Irish Breakfast. Enjoy a pint, some great food and most importantly, a few tunes in this authentic setting.
Address:  Plaça de la Sagrada Família, 4, 08013 Barcelona
Where to stay
Take a look at our apartments for music lovers in Barcelona: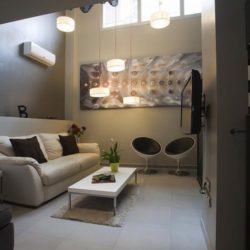 Exclusive and elegant triplex with an amazing private terrace. Its living room fits with its contemporary style and the dining room, with integrated kitchen, is spacious and bright thanks to its huge windows. The bedrooms are spacious and open onto the terrace. This apartment is situated in an excellent spot, in the district of Sants, close to Placa Espanya where you can admire the famous Magical Fountain. It is also well connected to public transport network.   
  From 161€/NIGHT|150m²/License:HUTB-002911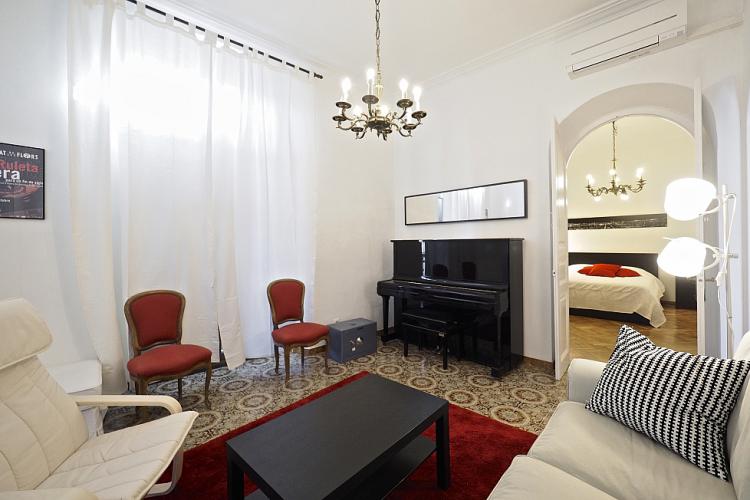 Apartment with a piano by Las Ramblas
You will love the bedroom with its high ceilings, smooth parquet floors and high-quality furniture adding a majestic touch to the space. The apartment also features another bedroom with a double bed and a reading desk. In the living area, you will also find a comfortable couch below a pretty vintage painting on the wall and a beautiful Kawai grand piano.   
From 1479€ / MONTH| 80m2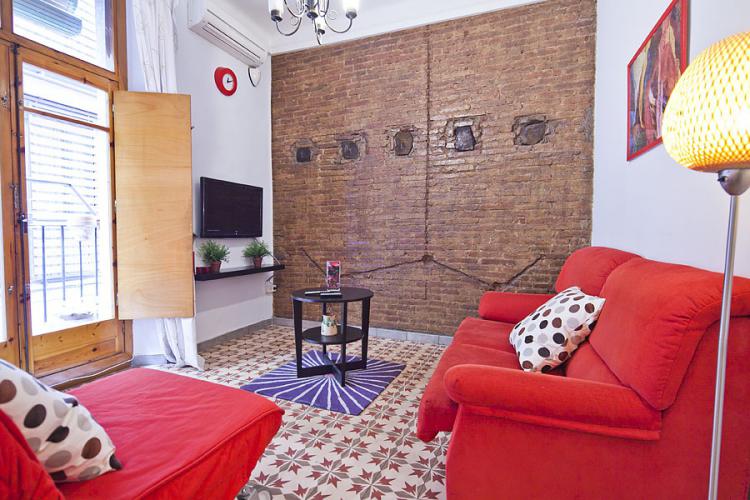 Cozy apartment by Palau de la musica Catalan
How about finding an apartment by Palau de la musica Catalana? This accommodation features a master bedroom with a cozy double bed and large white armoire, as well as a smaller single bedroom perfect for a child. The bedrooms come with a clean, minimalist style to make you feel at home and share a modern bathroom with a shower.
From 78€/ NIGHT| 45m2 | License: HUTB-002305
Are you looking for a great accommodation in Barcelona? Look no further, we have what's right for you!