Being the hometown of FC Barcelona, one of the best football teams in the world, gives a truly big impact on the city and has made Barcelona a great football destination. If you are football fans coming here for a weekend you have all the possibilities to make it to a grand football experience. Why not take the opportunity to go all the way while being here? We are talking about world class games, the best sports bars in town, football museums, souvenirs and much more. Does this sound exciting enough for you? Then we at Barcelona Home gladly present our Barcelona itinerary for football enthusiast.
Things to do
# Watch FC Barcelona at Camp Nou
The proper live action of world-class football can only be experienced from the stands in Camp Nou. You only need to find your seat, which first might seem difficult as the seating capacity for the venue is impressively more than 99 000. But no need to panic as the awarded and excellent staff will help you to the fullest, and you can just enjoy the spectacular show. Is the thought of watching a live game from Champions League, La Liga or Copa del Rey giving you goosebumps yet? Then we suggest to secure your tickets today – also make sure to purchase your ticket from a smooth and safe retailer.
# Camp Nou Experience
Next, to the stadium, you will find the Camp Nou Experience, a unique and fun museum dedicated to football fans. The museum presents audiovisual areas, multimedia installations and trophy galleries which allows visitors to take part in hundreds of photos and videos from the history of FC Barcelona. In addition to this, you can also book a tour of the stadium area. Choose between different tours from audio services to a VIP tour which allows you to enter some of the most exclusive areas with a guide. Have you ever dreamed about standing on the football field yourself? Then don't hesitate as this is your chance to do so!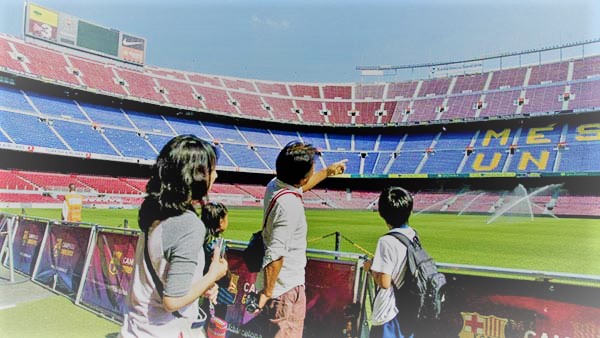 # Shop football souvenirs
Barcelona as a city is known for offering great shopping, and you'll find a wide selection of football souvenirs. And when we say wide, we truly mean it. The biggest official FC Barcelona store (located next to Camp Nou) has more than 3000 sorts of official club products you can choose between. This huge store (2000 m2) will provide you with anything you need such as replica kits, decorations, and gadgets. Throughout the city, you will find several FC Barcelona shops that provide you with further stocks of merchandise products. So be ready to shop until you drop!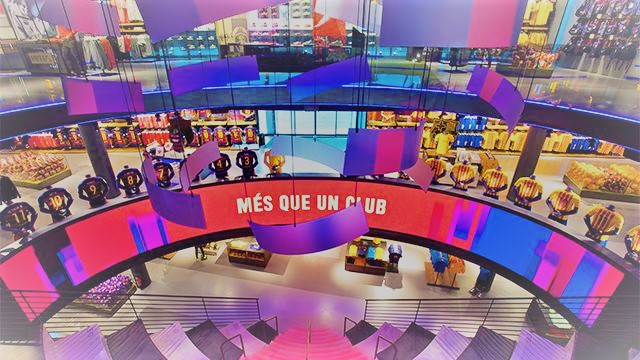 # Play football yourself
Barcelona has a football spirit throughout while being in the city why not take the chance to actually play football yourself? This could be done in many ways; either on an asphalted field, artificial grass or why not on the sandy beach? There are organizations like CeleBreak that provides football sessions that you can participate in, even if you are here for just a few days as they welcome everybody no matter; nationality, gender or previous experience and level of the sport. If you are interested to know more about this, we at Barcelona Home present a full guide on how to play football in Barcelona.
Where to eat 
Barcelona presents several sports bars that's just the perfect choice for football enthusiasts coming to the city looking for the ultimate experience. We would like to present three great options of where to eat for your stay. These bars will provide you with everything you need; big screens showing football games, food, beers and the company of other football fans. In the end, is there any better combination than enjoying a nice meal while watching your favorite team play?
# Sonora Sport Tavern
This popular sports bar is located in the Poblenou district and has all the right settings in order for you to have a fantastic evening of football from a big screen along with nice drinks and food. The interior presents a classical approach with dark wooden details and plenty of posters and painting with sports motives. Fancy a beer? The this is the place for you as you can choose between 30 different sorts of beers!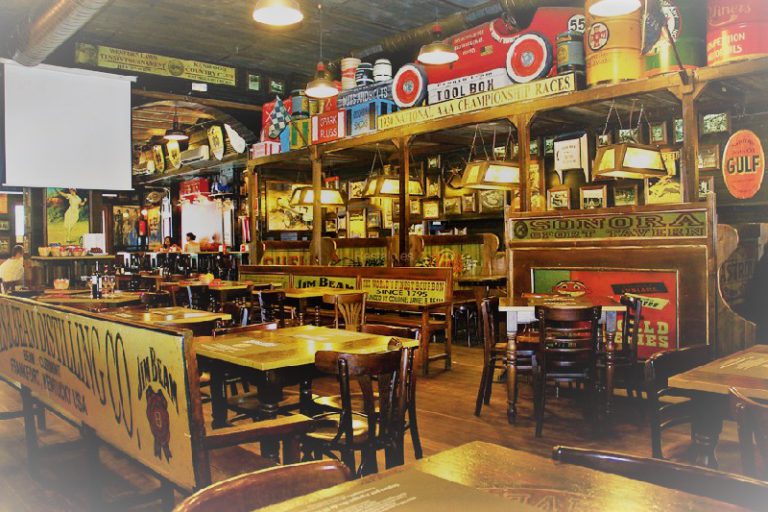 # Sports Bar Italian Food
If you are a sucker for pizza and football then Sports Bar Italian Food in El Born is the place to be! As the name reveals has this sports bar chosen to present a specific culinary set of menu. Find your place at one of the tables and enjoy a thrilling game of football which is showed from multiple screens. This venue allows you to relax and eat while still experience the great interior and atmosphere of a sports bar. As, what about a pizza oven shaped and colored as a football?
# George Payne
George Payne welcomes you to your favorite Irish bar in town. The venue itself is quite great with similarities to a roughed two- section ballroom. Football enthusiasts are usually gathered under the huge screen in the middle of the bar while holding a cold beer in their hands. Along with different options of beverages, you´ll find a solid selection of hamburgers and other cuisines that fits within the Irish- sports-bar theme. Be ready as it might get a bit crowded and noisy, however, this is the place where you win and loose together so get ready and join in the fun at George Payne.
For more recommendations, we have our article about the Best bars to watch football in Barcelona and our Eating & Drinking section!
Where to stay
Take a look at our apartments for football enthusiast in Barcelona: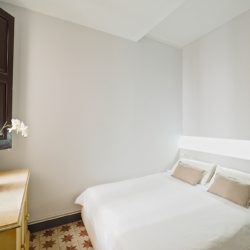 VINTAGE 2 BEDROOM APARTMENT IN EIXAMPLE
Exquisite residence with an impeccable interior design, beautifully maintained original features (such as luxuriously high ceilings and elegant French doors) and a unique location right across from the magnificent Parroquia De Sant Francesc de Sales church, visible from the balcony. Upon entering, you will find yourself in a gorgeous foyer, from which a hallway with striking mosaic tiles will lead you to a spacious living room.
From 66€ / NIGHT | 95m2 | License: HUTB-001273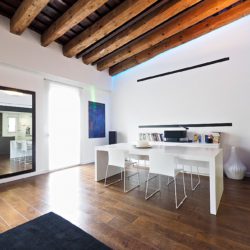 BEAUTIFUL PENTHOUSE IN THE CENTER OF BARCELONA
The interior of this magnificent apartment is a unique mix of rustic and modern elements such as spectacular exposed wooden beams, wooden doors, walls of exposed bricks, contemporary design elements and modern art on the walls, bright white furniture, and polished parquet floors. In the kitchen and bathroom, you will find modernized equipment and the latest technology.
From 220€ / NIGHT | 95m2 | License: HUTB-001245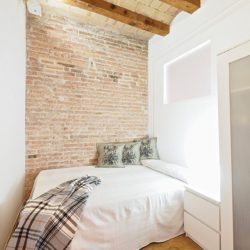 SPACIOUS APARTMENT WITH TERRACE IN CENTRAL BARCELONA
This beautiful designer home features a unique interior combining rustic elements with contemporary ones to create a sophisticated yet comfortable ambiance. We love the juxtaposition of rough brick walls, refurbished wooden doors floors and furniture, and wooden beams in the vaulted ceilings with the bright white designer sofas and the vibrant black and white pillows and carpet in the living room.
From 135€ / NIGHT | 70m2 | License: HUTB-001790