Where to find the best and most exclusive high end shops in Barcelona
While on vacation, we all desire something which reminds us of our time away. Most people buy simple souvenirs, like a fridge magnet or a key ring, while others love to buy something special, which is unique and inimitable. For this reason, we have created a guide on Barcelona's best luxury shops, which will allow you to discover the wonders of Barcelona in terms of fashion, art and new trends. The shops are located in areas easily accessible, so that, for example, after taking your photos at Plaça de Catalunya, you can catch a metro or bus to one of these stores. You should also know that Barcelona is the Spanish economic capital, and as well as London, Paris, Milan and New York, it is emerging as one of the world's fashion capitals. So  let's find out where to find Barcelona's best luxury shops.
Passeig de Gràcia
The first area has to be the Passeig de Gracia and is home to a stretch of luxury shopping brands. The shopping chain starts from Plaça Catalunya and goes as far as Avinguda Diagonal. In this area, while having fun and enjoying a relaxing shopping experience, you can also visit Gaudí's La Pedrera and Casa Batlló. The shops are all high fashion and very luxurious boasting brands such as Prada, Gucci and Chanel. For those in search of jewelry there is a wide variety of designer brands such as Cartier, Tiffany & Co and Bagues Joieria. If you want to commemorate your trip by splurging on a couture piece, the Passeig de Gracia has everything you need and more!
Avinguda Diagonal
In this area there are many luxury shops. This street runs through Barcelona, but we will focus on the central part, before and after Passeig de Gracia. Here there are a large number of shops, and you can choose your favorite purchase without the hustle and bustle of city crowds. In the diagonal you can find every type of product, both luxury and cheap. For luxury shops, the best known in this street are Tous, Louis Vitton, and Montblanc. Also walking in the Diagonal you will feel like you are in the center of Barcelona, and with the possibility to get anywhere in no time. High-class shops; in the city center; and wide and sunny streets to enjoy a nice walk: what more could you ask for?
El Born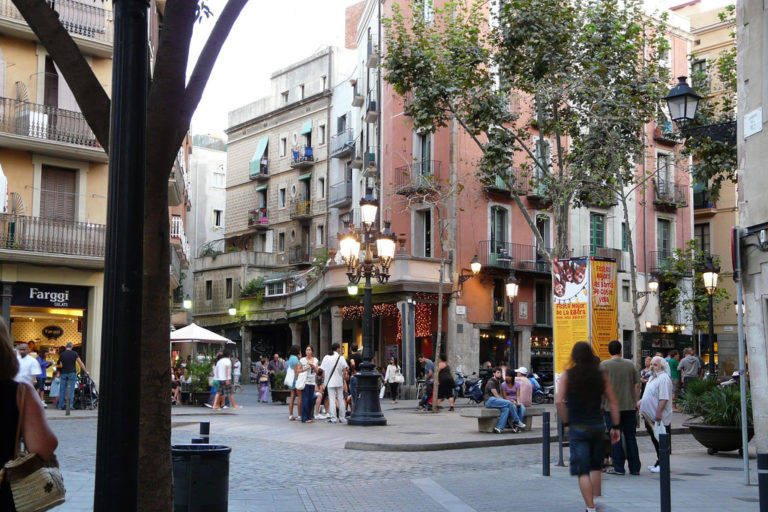 This area is part of the historic center of Barcelona, and is one of the oldest in the city. Frequented by many tourists, there are many vintage shops and new trends boutique, as if to underline the link between past and future. In fact you can find unique objects from the 50s, 60s and 70s. So if you want to take a dip in the past or in the future, go to the fantastic shops of the Born, you will not regret it: on your return home, everyone will envy your new found, Born inspired style.
In this area there are also some of Barcelona best luxury shops from a classic point of view. The Born is starting to attract several big name brands, including Dolce & Gabbana and Custo Barcelona. Carrer Rec has several minimalist boutiques such as the impressive The Comercial, which stocks items by designers such as Vivienne Westwood, Alexander McQueen and Givenchy.
Sarrià
Sarrià is a wonderful place to live, but also a wonderful place to shop. It is located in the upper corner of Barcelona,in a prosperous area, with luxurious villas and spectacular streets. The chic nature of this district is home to very special shops, cared for in every detail and with a unique customer focus. Here you will not find any mainstream products, only unique, once off items! This area is not frequented by tourists, so you can enjoy your shopping afternoon quietly, without waiting ages for a fitting rooms. In addition there are many places on the street where you can take a break, such as squares, bars with terraces and fantastic restaurants, where you can savor the essence of Barcelona.
La Roca Village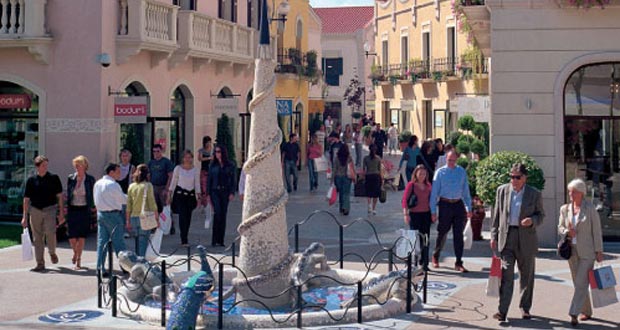 Although not exactly located in Barcelona (in fact it is about an hour away but do not worry, it is well connected), the Roca Village is the perfect place for those who want to enjoy a full day of shopping. This is a Village outlet, with hundreds of shops and brands available, perfect for finding the right piece for you. Also being an outlet, the prices are not very high (certainly they are lower than the shops in the city center). In addition to hundreds of stores, there are bars and restaurants where you can refresh yourself with a cold drink and rest after your immense shopping efforts . So, get your credit card ready and shop till you drop with our Barcelona's best luxury shops guide!
Are you looking for a great accommodation in Barcelona? Look no further, we have what's right for you!