Looking for a monthly rental apartment for your stay in Barcelona to complete your internship, work, study or whatever reasons? Barcelona Home has got you covered. Being one of the most international cities that welcomes thousands of foreigners into the city each year, Barcelona Home understands that finding an accommodation that meets your needs and wants can be challenging. However, do not fret. Barcelona Home is here to assist you to finding your ideal monthly rental. We have a broad list of accommodation of different styles and prices in different districts for you to pick. Contact us by email or online customer service chat box in our website to learn more about the properties of your interest.
From 420 € / MONTH



An apartment with a simple, practical design for an individual seeking a monthly room rental near the business district of Barcelona. The living room has a lounge, a TV, and an elegant piano, as well as a dining space with a table for four. From the balcony, you can enjoy a birds-eye view of the city. The kitchen has all the appliances you need to prepare a delicious meal. We guarantee you will feel at home in the lovely bedroom, of which the soft yellow walls create a relaxing ambience. The room is furnished with a comfortable single bed, a nightstand, a shelf and a work desk. There is a spotless bathroom with shower nearby, recently renovated with high quality materials.
This monthly rental apartment is ideal for individuals working in Barcelona, due to its proximity to several commercial areas. You will be just meters from Gran Via, where you will find the massive Gran Via shopping center, Carrefour supermarket, Fira de Barcelona exhibition center and the Ildefons Cerda metro station that will quickly connect you with the rest of the city.

From 855 € / MONTH



This charming zen apartment with 2 bedrooms has a fresh and simple aura, and is available for monthly rental in Sant Martí. The design is characterized by a soothing blend of "zen" colors and materials – soft refurbished wood and metallic surfaces against bright white and beige. Generous amount of sunshine enters the apartment through the spacious balcony. The lovely kitchen gains its charm from the metallic wall and dangling pendant bulbs. The wooden dining table is also good for work. There are two bedrooms: a double bedroom with a large white closet, and a single bedroom with a huge wooden armoire. The apartment has a storage room for bicycles.  The building is located in a quiet residential neighborhood with plenty of parks and shopping malls. You will be very close to the La Pau and Besos metro stations, with easy access to the city center. We recommend you to walk to the Parc del Forum along the tree-lined Rambla del Prim, and continue to Platja de Llevant, a popular beach with 2 great beach bars, where you can enjoy a nice meal or drink. The apartment is also close to CEM Besos, a sports center for those who like to exercise. Home to Barcelona's Olympic village, and with easy access to the beach, Sant Martí is popular with surfers, swimmers and kite boarders.

From 6500 € / MONTH 



The property is a 3-bedroom luxury apartment (with rooftop pool) in Sarria Sant – Gervasi, offering a high-end living space of 140m2. The interior design is of the highest standard of elegance and comfort with sophisticated furnishings and attention to detail. Each bedroom is complemented with high quality linens and a desk for reading. The spacious living room is an incredible space where you can relax and rewind, whether watching your favorite show with a flat screen TV or socializing with friends. The kitchen has a simple, yet highly elegant design. It is equipped with world's best kitchen appliances.
The building has much more to offer: a rooftop terrace, outdoor cinema, gym, sauna and a communal swimming pool. It is located in a quiet residential area of Sarria-Sant Gervasi, away from the noise of central Barcelona. It is known for its magnificent green area such as gardens, and large shopping areas, either in Via Augusta, Passeig de Gracia, and Avenida Diagonal or its myriad boutiques and restaurants in the neighborhood. It is also quite accessible to the center, either by car or public transport, plenty of buses and trains in the area, as well as the metro L3 at Fontana station.

From 1131 € / MONTH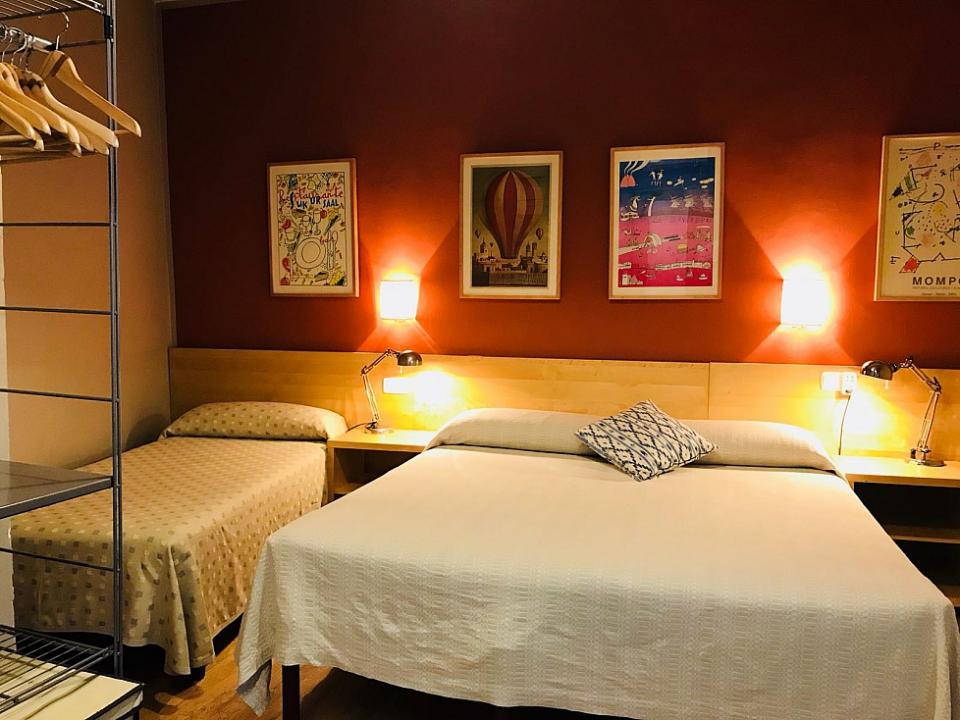 This old city apartment, located in the centre of the city, consists of a bedroom with a double bed. Its large windows have a great view to the outside. There is a fully equipped kitchen with a table and a TV. This well-equipped kitchen and its designer chairs give it a lot of comforts. The bathroom has a shower and a large mirror.
The location of this apartment, in the heart of the Gothic Quarter, is ideal. Born, near the famous Cathedral of Santa Maria del Mar, will allow you to enjoy a wide range of activities such as visiting famous museums such as the Picasso Museum, eating in restaurants with the best kitchens, shopping for the latest trends. All this close to the beach, which is about 300 meters away. Taking a 10-minute walk you will find Las Ramblas, Parque de la Ciudadela, Barcelona Cathedral and Palau de la Música. The Jaume I metro station is about 180 meters away.

From 1376 € / MONTH




This beautiful apartment with two bedrooms makes you feel like home from day one. It has a wooden floor and big windows, which creates the homelike feeling but the apartment still has a modern touch. Grey, that is the trendiest color in interior design at the moment, is dominating the decor of the apartment. The kitchen is fully equipped and its furniture is stylish. The apartment can be a home for four persons as it has a big double bed and a double sofa bed in two separate bedrooms. One of the apartment best items is the 25m2 terrace perfect to enjoy Barcelona good weather.
The apartment is located only 10 minutes walking from the famous Sagrada Familia. Metro stations (L5, L4) and bus stops nearby link the neighbourhood to rest of the city and therefore, it is easy to get around in Barcelona. The area is quiet but also full of restaurants and grocery stores in the area, especially in the famous Avenida Gaudi which connects the stunning modernist Sant Pau hospital with the majestic Sagrada Familia.

From 1322 € / MONTH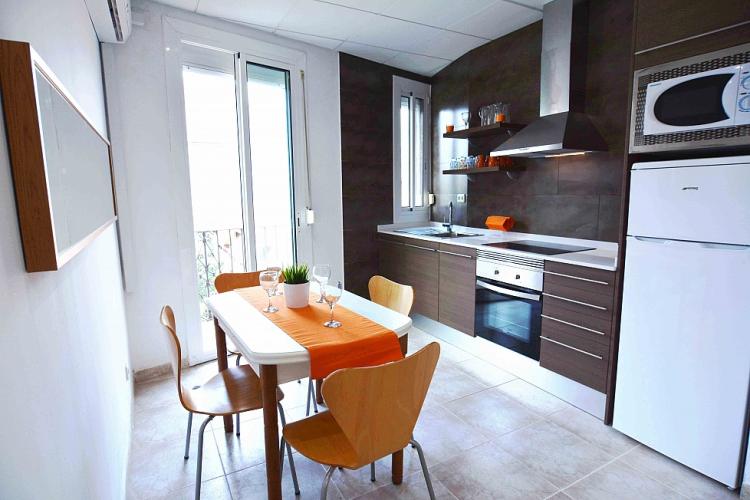 Enjoy the brightness of this apartment for rent in Barcelona. It is situated in the heart of the district of Sants, a quiet residential area which benefits from a good connexion to the city center. It is a simple but very charming apartment, its decoration in earthly colors and rustic details makes this apartment a warm place. Its style, with contemporary furniture and ancient windows, creates a modern and bright atmosphere.
This apartment in Barcelona, thanks to its proximity with the city center, is the perfect solution for a stay in family or with friends. It is close to Sants railway station, one of the most important public transports crossroads of Barcelona, and just a few steps away from Plaza Espanya. This area is full of shops, bars, restaurants and parks, such as the Parque de la España Industrial or the Parque Joan Miro, ideal places to disconnect from everyday life and enjoy nature right in the middle of Barcelona.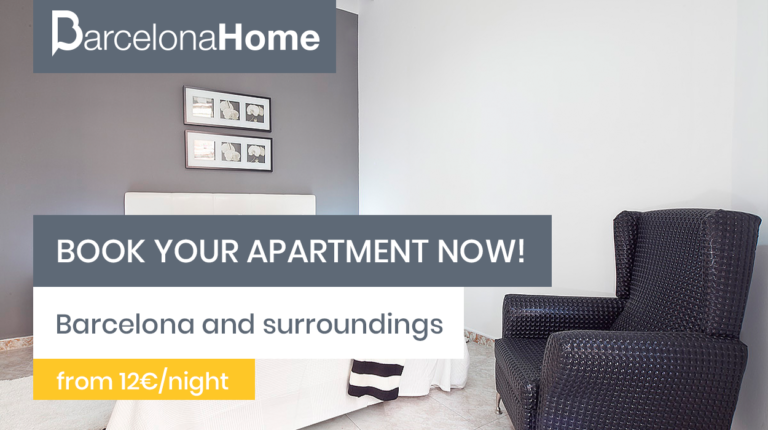 This monthly rental apartment is ideal for individuals working in Barcelona, due to its proximity to several commercial areas. You will be just meters from Gran Via, where you will find the massive Gran Via shopping center, Carrefour supermarket, Fira de Barcelona exhibition center and the Ildefons Cerda metro station that will quickly connect you with the rest of the city.

Tips to rent accommodation
Daily rentals; apartments, houses, studios, luxury properties – from €12/night
Monthly rentals; fully furnished apartments and rooms – from €260/month
Yearly rentals; furnished and unfurnished properties
You can always contact us to receive some advice to choose the perfect accommodation for you or assistance during the booking process!
Telephone: (+34) 934 231 270
Mail: [email protected]
Website: www.barcelona-home.com
Barcelona-Home is an internationally recognized and award-winning company based in Barcelona and has grown over the years, providing a wide range of services to meet the contemporary demand of our clients.
On our platform, you can find any kind of accommodation starting from shared apartments or student rooms, vacation rentals, monthly or yearly rentals, villas as well as properties for sale.
Our main goal is to provide the highest level of service to all our clients, we provide you with all the information you need when booking your stay with us. We are looking forward to welcoming you to Barcelona.
We hope to ensure that you enjoy a memorable time during your stay and fall in love with Barcelona as we did!
Barcelona-Home gathers professionals from more than 20 nationalities who love traveling the world and know more than anyone else about foreign countries. We are a multinational and innovative team of highly professional and dedicated people. The diversity of our team allows us to manage and respond efficiently to our clients' needs.