El Born is one of the most emblematic neighborhoods of Barcelona. Being part of the old city, it is composed of cobbled streets, stunning architecture and small boutique shops and restaurants. This area of the city is also known for its great bars and proximity to clubs and vibrant nightlife. Get enchanted by the beautiful passages such as the Passeig del Born or soak up some culture at the Picasso museum. As part of the old city known as Ciutat Vella, this means you are minutes away from other stunning areas of the Gotico and the Raval. Here is our selection of just a few of our apartments in the Born.
TWO BEDROOM APARTMENT NEAR PLAZA URQUINAONA
From 151 € / night
Lovely apartment with cheerful interior design and a great central location near Plazas Catalunya and Urquinaona.
The stylish residence features soothing baby-blue walls, elegant wooden beams in the ceiling, smooth mosaic tiled floors and patches of exposed brick, which add a rustic touch.
The living room, furnished with a polished black couch and a simple wooden dining table, leads to a balcony.
This master bedroom comes with a cozy double bed.
You will enjoy the privilege of being near many famous attractions, including the Arc de Triomf, Ciutadella park, Catedral de Barcelona and Born Cultural Center.
License number: HUTB-002307

APARTMENT CLOSE TO SANTA CATERINA MARKET IN EL BORN
From 129 €/night
Tastefully designed apartment in the beautiful and historical el Born neighborhood.
The interior blends contemporary style furniture, such as in the living room, with floral decorations and original features, including a dramatic exposed brick wall, elegant arched entrance ways and the mosaic tile floors typical of bourgeois residences in Barcelona.
The accommodation features a master bedroom with a cozy double bed and large white armory. The bedrooms come with a clean, minimalist style to make you feel at home and share a modern bathroom with a shower.
We adore the fully equipped, modern kitchen and precious dining space.
By choosing this accommodation, you are choosing to be just steps from some of the most famous attractions of Barcelona, including Arc de Triomf, Ciutadella park, Palau de la Música Catalana, Antic Teatre, and the Catedral de Barcelona.
License number: HUTB-002305

DUPLEX APARTMENT IN BORN
From €1000/month




 Perfect for a couple seeking a stylish and very comfortable space in the cultural center of Barcelona.
The bedroom comes furnished with a comfortable double bed and two pretty nightstands.
The apartment also comes with a gorgeous community terrace with a sturdy wooden table and benches perfect for breakfast outside on a sunny day.
This apartment boasts an unbeatable location in the El Born neighborhood, just steps from the famous Arc de Triomf, La Ciutadella park, and the Museu Picasso. This area is known for its fantastic little streets lined with boutique shops and for its stunning plazas.

PICASSO APARTMENT IN BARCELONA
From 140€/night



This apartment offers both light and space. Composed of three large bedrooms this flat can accommodate up to 4 persons.
The decoration is fresh and original with charming elements such as the headboards of some bed representing one of the streets of the Born.
Since it is situated in the at the heart of the neighborhood, you can easily discover everything that the Born area has to offer. Walk around the small streets, full of life, and pay a visit to the Picasso Museum, or to the Cathedral of Barcelona to admire its wonderful Gothic architecture.
License number: HUTB-003802

APARTMENT VIA LAIETANA
From 1100€/month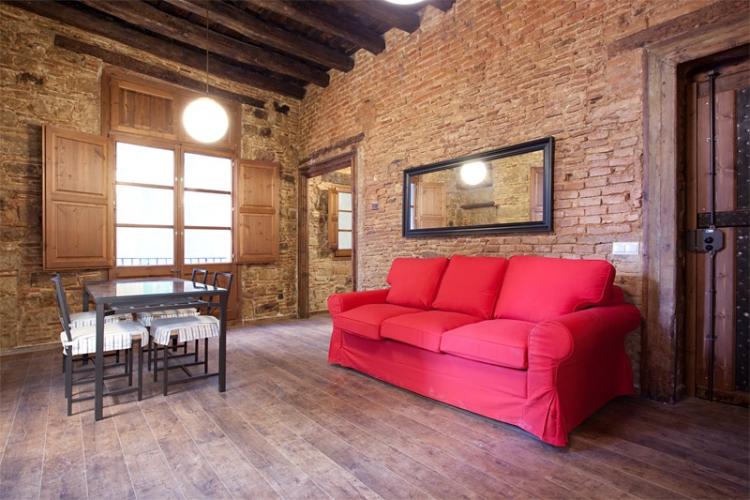 In the neighborhood of El Born, this apartment with a balcony is a great option for everyone looking for a cozy accommodation
The apartment has been recently renovated and is ideal for couples or small families.
Traditional brick walls, antique doors, and wooden beams contrast with the modern furniture, giving it a nice rustic feel.
The American kitchen is integrated into the living-dining room and has everything you need for your stay. The living room is very bright with access to a large balcony overlooking the romantic Born streets.

MODERN APARTMENT FOR FAMILIES IN BORN
From 138 € /night
Beautiful well-situated apartment.
Perfect for families, considering its dimensions and its modern and functional facilities.
The living room and kitchen form one space decorated in neutral tones, except a green touch of color in the kitchen.
All rooms are equipped with wardrobes and a small desk.
This apartment is situated in the center of Barcelona, more precisely in the Born neighborhood, with its small streets full of shops as well as local and international restaurants. Nearby, you can admire the magnificent Gothic Cathedral of Barcelona, or take a walk to the Barceloneta and its famous beach.
License number: HUTB-003810

SUPERB APARTMENT FOR FAMILIES IN BORNE
From 146 € / night
Superb apartment, renovated and spacious, displaying a decoration in grey and black tones with a few touches of color here and there for a nice contrast.
The kitchen, fully equipped for your convenience, is open and presents a combination of chrome and wooden elements.
All the bedrooms are spacious for your comfort and make it the ideal place for a family wishing to stay in a cozy and renovated apartment.
The apartment is situated in the neighborhood of El Born, characterized by its cosmopolitan atmosphere by day or during the night.
In the vicinity, you can also enjoy the Museo Picasso and the cultural center of Born, which retraces the history of this medieval neighborhood. You will also have the opportunity to walk up to the beautiful Parc de la Ciutadella to wander among its pretty gardens.
License number: HUTB-013142

SAGARDI BARCELONA APARTMENTS, BORN
From 146 € / night
 The kitchen is renovated and fully equipped with high range appliances for your comfort with a pale pink wall to match the darker decoration.
The rooms are colorful and spacious, originally decorated and furnished in a way to optimize space, with many storage spaces.
Its emplacement in the Born district is excellent if you want to enjoy the historical culture of Barcelona.
License number: HUTB-003798