After many months of uncertainty, it is hard to imagine what Christmas 2020 will look like in Barcelona. We normally spend the lead up to Christmas surrounded by friends and family, attending festive events and piling into the shops to complete our Christmas shopping. Although this year things will be a little different, it doesn't mean we can't have fun! We've compiled a list of the best activities during this Christmas period in Barcelona – so get planning!!
#Turning on the Christmas Lights
Each year at the end of November there is an event held for the turning on of the Christmas lights. Everyone gathers round to watch the streets of Barcelona light up for the Christmas period. This beautiful display marks the start of the festive season and the lights remain on until after Christmas. This year, the lights will be switched on at 5:30pm on the 28th of November, so keep your eyes peeled for the sparkling lights all over Barcelona.
#Christmas Shopping
Although we are encouraged to do as much of our shopping online during this time, the shops are still open as usual and have applied measures to make your Christmas shopping as safe as possible! For the larger commercial shops, La Rambla and Passeig de Gràcia are the best shopping spots. If you are looking for smaller more independent shops, el Born and Villa de Gràcia are both great for this. There are also many Christmas markets in Barcelona which are sure to lift your Christmas spirits. Although they make not be open in the way we are used to, we can still enjoy browsing for gifts and trying different food and drinks!
Here are some of the best Christmas markets in Barcelona:
La Fira de Santa Llucia
Situated just in front of the Cathedral, this market appears around the end of November until December 23rd and is the oldest Christmas Market in Barcelona. You can find many different handmade decorations, figures, jewellery and other gifts here. Opening times are 10:30-20:30.
La Fira de Nadal de la Sagrada Família
This market sits just beside La Sagrada Familia and also opens at the end of November. Stalls are open from 10:00-21:00 daily. Although smaller than Santa Llucia, there are many stall selling festive food and drinks to keep you going!
La Sagrada Familia
La Fira de Nadal del Port Vell
You have more chances to visit this market as it stays open from the beginning of December until the 5th of January. Located near the Columbus monument, the market is open on weekday evenings from 18:00-22:00, and on weekends from 10:00-22:00. There are lots of pretty lights and decorations to see here, which a floating nativity scene and a carousel too!
La Fira de Reis
This market (which celebrates Kings Day) only runs from the 21st of December until the 6th of January. Opening times are from 11:00 to 14:00 and then from 17:00 to 21:00.Situated on Gran Via, this is a great place to buy toys and gifts as well as Churros and Hot Chocolates!
#At Home Baking
Why not try your hand at baking some delicious treats to share with your friends and family. There are many delicious foods that are traditionally eaten at Christmas time in Spain, especially sweet treats that you can make from home. For example, why not try making Spanish Almond Nougat, known as Turrón! See below for a how to video for making Turrón. This tasty treat is bound to impress your friends!
#Visit the Ice Bar
Once bars and restaurants reopen, there will be plenty of opportunities to enjoy festive food and drink experiences in Barcelona. However, our favourite at Christmas time is the Ice Bar. This is the one place in the city where you can experience a real white Christmas, as we can pretty much guarantee there will be no snow in Barcelona. Wrap up warm and enjoy taking in the beautiful ice sculptures and even drinking out of glasses made from ice! You can purchase tickets online and you will be given a special coat and gloves upon entry to ensure your comfort during this sub-zero experience.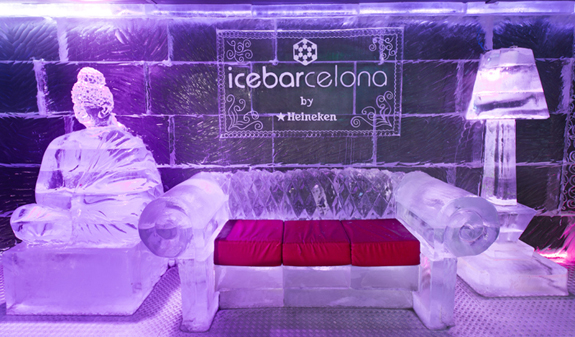 #Take part in some Catalan traditions
Tio de Nadal
This rather strange tradition involves a hollow log being painted with a smiley face and placed in the house on the 8th of December. The children of the house must feed the log bits of food and drink every day until Christmas. On Christmas day they then beat the log with sticks and sing a special song. Soon after, presents will appear for the children. This may sound a little odd if you are not from the area, but it can be a fun tradition to take part in if you have kids around.

The Caganer
Another rather odd tradition at Christmas in Catalonia is the 'Caganer', a cheeky figurine that you'll find sold at many of the Christmas markets. The little man is squatting down over a pile of excrement, which may seem very unappealing to most people. However, the idea is to celebrate the pagan rituals of fertilising the soil and is considered good luck! Strange as it may seem, this is a tradition that doesn't seem to be on its way out any time soon!
So, there you have it. There are plenty of things to do in Barcelona that will give you that Christmas feeling whilst staying 'Covid-safe' this year, so get out there and enjoy!!
Looking for an apartment in Barcelona for the holiday period? Check out the amazing properties on our website!