Everyone should visit 100 montaditos bar if they are in Barcelona because it is very popular among locals thanks to the attractive price of the meals. 100 montaditos started up in 2000 and in short time they quickly expanded throughout Spain. So if you really are on tight budget this place is for you. There are 7 locations of 100 Montaditos in Barcelona, Spain.
Find your accommodation now!
Find the one that's closest to you:
-Plaça Urquinaona, 1, 8010, Barcelona.
-Avinguda del Canal Olímpic, 24 Castelldefels, 8860, Barcelona.
-Avd. del Baix Llobregat s/n, Cornellá de Llobregat, 8940, Barcelona.
-Avinguda Gran Via 75-97, L'Hospitalet De Llobregat', 8908, Barcelona.
-Av. Río de Janeiro, 42, 8016, Barcelona.
-Carrer de Potosí, 2, Barcelona, 8030, Barcelona.
-C/ Estrasburgo, 5, Mataró, 8304, Barcelona.
This bar of course has a Spanish cuisine and you can have breakfast/brunch or late night dining options. It is recognized and has Certificate of excellence 2014! In this bar you can eat delicious food and you can choose all kinds of different sandwiches, burgers, French fries, salads etc.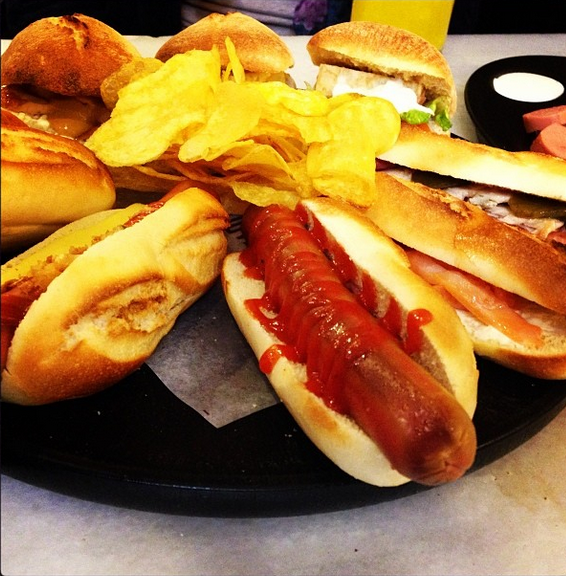 There are 100 fillings available that include: four cheeses, prawns with ali – oli, chicken mayo, bacon, tortilla, chorizo, anchovies, tuna, cheese and cherry tomato, hamburger, hotdog, kebab, calamares, serrano ham, creamcheese with grated parmesan, smoked salmon, prawns in spicy sauce – and milk chocolate with jam!
The sandwiches come in four different types of bread rolls: usual, wholewheat, crusty and gourmet – with a touch of olive oil. And as well as draft beer, they serve tinto verano (summery red wine and lemonade) , wine, bottled beers, milkshakes, tea, coffee. In here you can get a pint of chilled Mahou beer for just €1 when you buy a sandwich for €1 or if you choose not to buy a sandwich you'll pay €2.
If you want to try every sandwich, 100 montaditos has a special and fun promotion called "Lunes Golfos" that starts every Monday. You can buy almost everything only for €1! Buy one sandwich for €1 and the second sandwich will cost only 50cents. So take a seat inside or outside the bar, take a menu (ask for English menu if you can't read Spanish),  and order form and pencil from the dispenser and fill  in the  form with the correct item number and quantity required together with what kind of drinks you want  – take the form  to the counter and pay, then wait for your name to be called over the tannoy – then collect your order from the serving hatch. Enjoy your meal and drinks!
Find more information about the menu here : http://spain.100montaditos.com/nuestra-carta